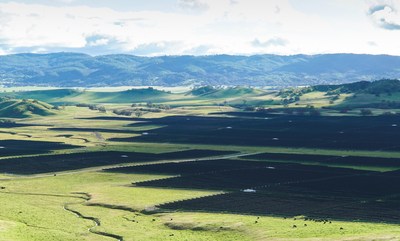 California Flats Solar Project Completed on Hearst Cattle Ranch
[ad_1]
First Solar Inc. and Capital Dynamics have announcement commercial operation of the 280 MW AC California Flats solar project.
The project is located on approximately 2,900 acres of land in Jack Ranch, owned by Hearst, near the border of San Luis Obispo and Monterey counties. It is fully contracted under two long-term power purchase agreements serving both utilities and renewable energy companies.
Project partners focused on co-locating the project with one of the largest working cattle ranches in the United States while minimizing the environmental impact of construction. Ranch employees worked in tandem with construction and operations teams, with input from stakeholders, to assess and plan development; as a result, the installation has a very low visual impact and cannot be seen from any public road, note the partners.
In addition, the project supports and complements the ranch's sustainable beef operation, which supplies grass-fed beef to the South Pacific region of Whole Foods Market.
"The California Flats Solar Project has helped us achieve our goal of finding a sustainable solution to keep the 73,000-acre Jack Ranch intact as a historic cattle ranch using traditional and proven ranching methods for our beef program. Grass-fed Hearst Ranch, "said Steve Hearst, vice president and general manager of Western Hearst properties. "Countless hours have been invested by Hearst and our partners to bring this important and complex project to fruition and ensure it works seamlessly with our cattle operation and ranch environment. "
The project, which covers approximately 3% of the ranch area, was built in two phases (covering an area equivalent to the area of ​​449 football fields). After acquiring the project in 2015, First Solar completed the development and built the facility. Capital Dynamics then acquired the project from First Solar in August 2017.
The facility is powered by First Solar's thin-film technology, including its Series 6 modules, which are manufactured by First Solar in the United States.
"This project confirms that solar energy can successfully coexist with the natural environment and active farming while generating clean, renewable energy and local economic benefits," said Troy Lauterbach, senior vice president of EPC and energy services for First Solar. "The California Flats Solar Project is also the first to showcase our innovative 6 Series PV module technology, which sets the standard for affordable and cleaner renewable energy.
The California Flats project has created significant jobs and economic benefits, the partners note. Construction of the project took approximately three years and had a peak staff of over 1,100 people. The project will generate clean energy equivalent to the needs of approximately 116,000 average Californian households per year, and will displace more than 109,000 metric tons of carbon dioxide per year.
[ad_2]
Source link