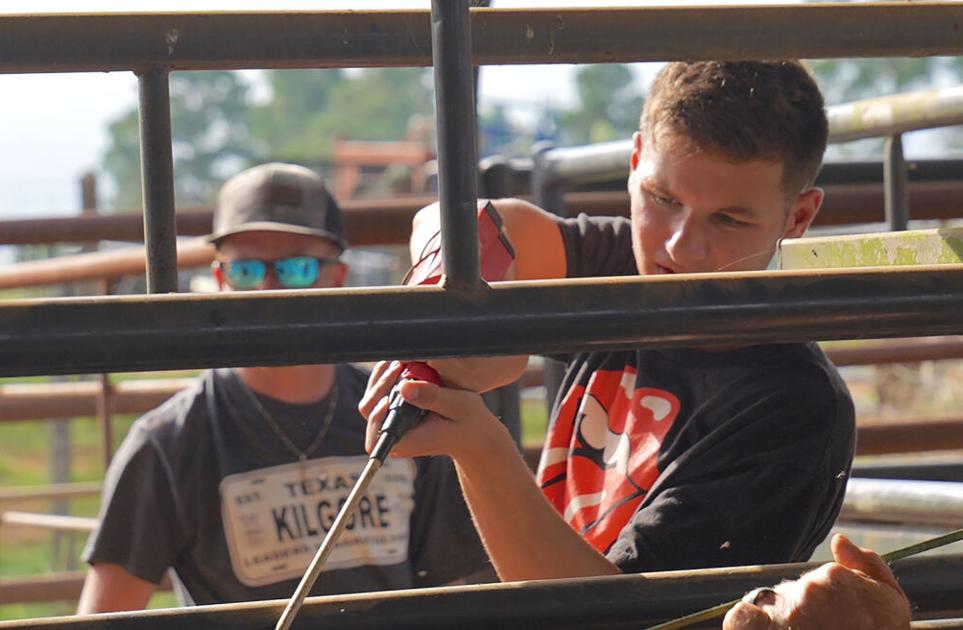 Chit Chat Corner: Exchange Students Tour Kilgore Cattle Ranch | Lifestyles
The American exchange program was considered a success, according to Dr. Glen Young of the First Baptist Church. He said, "The visiting high school graduates left on Saturday and ours will be back this Saturday, and the program will continue every year. Of the 40 cities on the list to deliver and promote the program, Kilgore was one of four cities involved in launching this exchange this year. Over the next few years, more cities will be added to participate. They loved Kilgore, and I heard tidbits from other community members about how they enjoyed the time spent with them.
Trying to set the record straight, he continued, "It was not a religious event although we were heavily involved. I'm on the AEP board of directors with the Rotary Club, which started the program, but it took the whole community to bring it together, including the Chamber (of Commerce), city officials and many more. others to make it such a great community event. High school graduates, visitors and locals did it well. It was wonderful."
There is a long list of all the activities in which exchange students have participated. One of these was time spent at the 5 ¢ Cattle Company, owned by brothers Matt and Reece Nichols.
Reece said: "The exchange students, as well as some of the Kilgore graduates, arrived promptly at 6.30am to help us deworm the cows, give the calves booster shots to vaccinate them against blackleg and other diseases, driving cattle down falls on horseback, and witnessing the old-fashioned branding. The horses were unique to them, and they seemed to enjoy everything from riding, deselling and washing. We later learned that most had never seen an animal other than a cat or a dog.
"I absolutely loved having them, and it gave me hope for the future as they all seemed open-minded and eager to understand what we are doing and ultimately we are advocates. of the environment that take care of our land and our animals. Dr. Charles Long of the A&M AgriLife Research Center in Overton was present and answered many questions about why we do what we do. was also very important to me that they saw our faith, our family and the way we like to take care of each other was our way of life.
Matt Nichols, who runs a large ranch in Richardson, demonstrated herding and lassoing to the group. Tim Capps provided a side-to-side in which the students went to a duck pond on the other side of the ranch and ultimately got him stuck in the mud. What a pity that he was not there to have fun, but that he was at the reception of an all-terrain vehicle covered in mud.
Reece is already planning ahead. "Now that this first year is over and we see how much time is needed, I intend to show the next group of other things necessary for animal husbandry, like building fences and repairing a water pipe, "Reece said. "Yes! It was the most interesting thing to have them here and we look forward to more years of work with the US exchange program.
IF YOU CALL and get a message like "If I don't answer you know my hands are in the paint…" you will have reached the home of local artist Peggy Coston. Peggy, who teaches art at the Adult Education Center on the KC-Longview campus, is hosting the Coston Art Exhibition at the Kilgore American Legion Building located at 204 S. Rusk St. Hurry now, because the event is scheduled from 1 p.m. to 4 p.m. until Sunday July 23-25. Proceeds from the sale of his art are needed to help cover medical costs not covered by insurance.
"She flies solo to get the medical attention she needs," said daughter Lisa White of Kilgore. "We were very blessed that the keys to the building were given to me by a member of my church, GoForth Baptist."
Peggy, who has turned her garage into a studio, can't wait to showcase her art to friends, family and Kilgoreites this weekend. She said: "I was a grandmother who went back to school after my youngest daughter graduated from Kilgore High School and Kilgore College. We both went to UT Tyler in 2012; she got her registered nurse license and i got my bachelor's degree in fine arts.
She is also a member of the Longview Museum of Fine Arts and can still be seen at the Art Walk and occasionally installed at the Farmer's Market. Coming in August, she has a show in Canton. She has been painting for 40 years, having taken the time to raise a family.
"With each exhibition, I like to present something unique and different from what I saw in the last exhibition." If you would like a private visit, contact his daughter Lisa at (903) 736-2600.
May his love and laughter fill your hearts and homes throughout the week. In the meantime, you can reach us at [email protected] or (903) 984-2593.
May his love and laughter fill your hearts and homes throughout the week. In the meantime, you can reach us at [email protected] or (903) 984-2593.