The Magnificent Mokbul Cattle Farm | The star of the day
Engineer Mokbul Hossain talks to Shykh Seraj at his cattle ranch in the capital's Bhatara region. Photo: Hridoye Mati O Manush.
">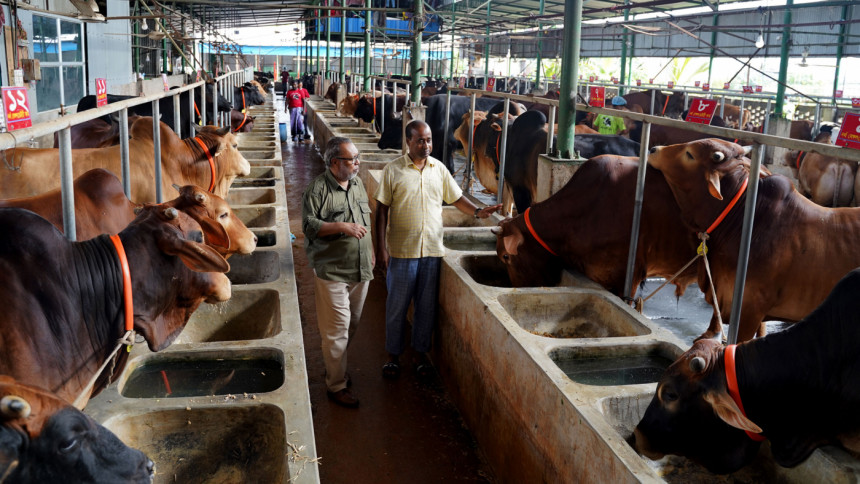 Engineer Mokbul Hossain talks to Shykh Seraj at his cattle ranch in the capital's Bhatara region. Photo: Hridoye Mati O Manush.
Saint Eid-ul-Azha is knocking at our doors. In Bangladesh, we celebrate this Islamic event of sacrifice, popularly known as Qurbani Eid. Half of the total number of cattle slaughtered nationwide throughout the year is done on this day. Every devout Muslim tries to participate in the sacrifice. And to sell attractive bulls and cows for Qurbani Eid, farmers do beef fattening all year round. It's an established trade now. We can meet the country's livestock demand with our own production. A few months ago, I went to Bhatara, located in the Badda region of Dhaka, to visit the breeding farm of engineer Mokbul Hossain. He left the engineering profession and started his farm eight years ago. The goal has always been to provide people with good quality meat, dairy and other agricultural products.
Mokbul started his farm primarily to raise dairy cows. He was inspired by watching Hridoye Mati O Manush (Soil & People in Heart, aired on Channel i) and also visited many countries to learn about breeding. His customers were so impressed with the quality of the milk and suggested to him that he could raise cattle for meat, sell pure mustard oil and also fresh ghee (clarified butter). Since 2017, engineer Mokbul Hossain has been involved in beef fattening. With a scientifically approved infrastructure, in the shade of the sheets, mother cows and bulls are raised. Local baby cows are raised and fattened with organic feed. In this way, he saves feed expenses while guaranteeing pure and healthy meat to his customers. The owner says every cattle on his farm makes a sure sale. Usually, customers who buy pure milk from the farm also buy bulls, goats and sheep.
Ahead of Eid-ul-Azha this year, the farm has bullocks worth Tk two crore ($236,000). Mokbul hopes to make a good profit from the upcoming Qurbani Eid. He has over 150 eligible bulls for Qurbani. He bought the bulls from various districts across the country on his own. Some were 11 months old, some 9 years old and some a year old. Now they are ready to be sold.
"Some people use growth hormones and steroids to fatten cows, how do you see that," I asked Mokbul.
"My position is very transparent. Those who do it dishonestly will not last," Mokbul replied.
Mokbul says these sellers won't get any loyal customers. He thinks such deceptive trade is only temporary and dirty.
"I fatten the cows naturally with grass, hay and normal feed and my customers always come back to me after getting quality meat," Mokbul added.
He even designed his farm in such a way that the cows get enough sunlight. He could do it because he is a professional civil engineer.
"I used my techniques. Every cow gets at least two hours of sunlight a day inside the farm," Mokbul said.
Engineer Mokbul Hossain has turned into a complete agro-entrepreneur. Activities centered on agriculture occupied his thoughts and his passion. He knows how to take advantage of his agricultural initiatives. It is indeed difficult to market cows according to customer expectations because some customers still have doubts about the fattening of beef with growth hormone and steroids. So, marketing the cows fattened with 100pc of local feed while addressing these doubts is not easy at all, says Mokbul. And Mokbul Hossain does it perfectly and professionally to satisfy its loyal customers. He uses social media in a methodical, business-like approach to market cows amid pandemic restrictions and convince people that his cows are organically fattened and the best to buy.
"I have about five thousand fixed customers who look to me carefully for quality products. I want to provide them with the best to the best of my ability," says Mokbul.
What Mokbul has done for his cattle is quite remarkable: he met nutritional requirements and made it easy and hassle-free for customers to buy the best organic cow. That is why the demand is increasing every day and so far he has been able to do this beautifully. He has clients in Baridhara, Gulshan, Banani especially in areas near Badda. Most people prefer medium sized red cows. Mokbul maintains communication with his customers and he recently brought these cows back from Thakurgaon district. Generally, Mokbul buys cows, aged between one and one and a half years old, with prices ranging from Tk 28,000 ($330) at 40,000TK ($471). Then he raises them for a year. His average monthly feed cost behind each cow is Tk 3,000 ($35.36) at 5,000 TK ($58.93). A positive change is also observed among customers. They are now deeply concerned about the quality of the cows. The involvement of educated people in agriculture, the efforts of the livestock department, and media campaigns have sensitized farmers, consumers, and marketers to positive ideas about beef fattening. Now customers can recognize a cow fed on steroids. Amid the coronavirus outbreak, Mokbul operates its sales on social media, including through Facebook.
The food that Mokbul gives to the cows is completely different. He mixes wheat, rice, corn, mustard and other oils with hay. He makes the unique food himself. It is very nutritious and pure, says Mokbul. Another important feature of the Mokbul farm is that it is absolutely neat and clean and the cows have plenty of space. Since his childhood, Mokbul has seen his parents raise farm animals and he applies exactly the same method on his farm. Depending on the weight of each cow, it provides the necessary food. That's why his cows look very healthy and active at the same time. An estimate indicates that the demand for sacrificial animals increases by 10% each year before Eid-ul-Azha. Last year, the demand was 1 crore 10 lakh cattle (10.1 million). But due to the COVID-19 crisis, demand has dropped by 20%. This year, the situation may be the same. The concerned authority expects the demand for livestock during this Qurbani to be 1 crore (10 million). Buyers and sellers also expect to sell and buy livestock through online platforms. I wish buyers and sellers good luck and hope to write another in-depth article on national livestock demand, market readiness and other relevant issues ahead of Eid-ul-Azha.