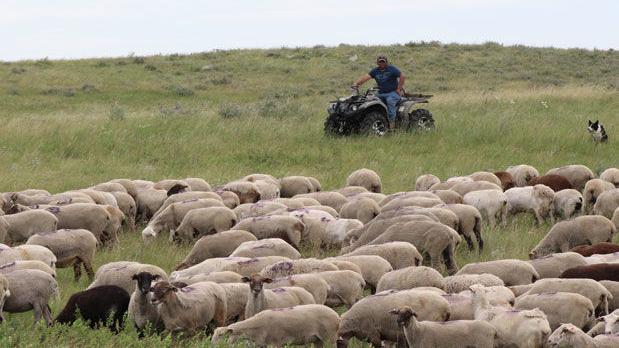 Weed Eaters: South Dakota Cattle Ranch Brings Sheep To Control Weed Plants | Local
[ad_1]
Sheep prefer herbaceous plants to grasses, so the bushy plants and abundant yellow clover are gone. Plots of Canadian thistle remained, but given another day, the sheep likely would have consumed that as well.
"They are much more efficient than a cow," Luke said.
That's not to say he's looking to switch his family ranch to sheep farming. Cattle also have a role to play.
Sheep tend to the large patches of problematic weeds at Rock Hills Ranch, but that doesn't mean the pastures are chemical-free. Permans spray small spots, and the worst will take some effort to control.
"We're not going to get rid of leafy spurge in a year," Lyle said.
Permans are able to incorporate sheep into their operation because they understand the stocking rates their pastures can withstand.
Luke was behind the logistics to bring the sheep to the ranch. He spent the winter revising his grazing plan and working out the details with the VanWell family, who own the large sheep feedlot in Watertown.
The sheep arrived at the ranch in late May. The VanWells provide a shepherd to care for them and four dogs to help protect and move the flock.
The Shepherd moves his daytime pens – measuring 400 square feet – to focus on leafy spurge, wormwood, snowberry, and other things cattle don't eat. By reducing "unwanted" hardwoods, native grasses preferred by cattle can grow strong without competition.
[ad_2]
Source link